ASUS trying to compete with Apple, This is their effort
Apple is a prestigious company that issued premium-class products, so it is not uncommon for many who try mengigkutinya even compete. Now one of the companies from Taiwan, Asus, trying to compete with Apple.
Jakarta, Inet Detik - Apple devices often become a comparator of new products that releeased by technology vendors, not to mention Asus. When released six new notebooks in Indonesia, they had paired some devices with MacBook and MacBook Air. Not just about design, but also performance.
Why does Asus compare its new notebook with Apple? Though a number of other computer vendors gush devices with the same specifications.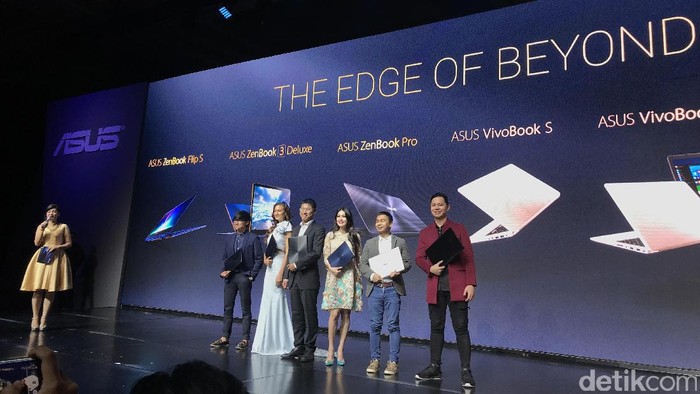 Courtesy of Detik.com
Apparently, the Taiwanese vendor considers Apple is the main competitor in the premium market. Because of that a number of devices compared to the MacBook.
"They are great companies that have good devices, which is why we compete with them in the high end market," said Benjamin Yeh, Regional Director of Asus Asia Pacific, after the launch event on Tuesday Aug 16, 2016.
For that, Asus brings six new notebooks at once to pound the premium market in the country. In order to compete with Apple, a number of notebooks made thinner with a much lighter weight. "We just want to compete with the best in the market, so we try to be the thinnest (in the world). That's why we compared directly with the MacBook Air.For the weight we also dared pitted," said Veronica Erwin, Notebook Product Manager Asus Indonesia In the same place.
To note, based on IDC data, throughout the fourth quarter of 2016 Asus managed to control 51.6% of consumer notebook market in Indonesia. They hope this year the market share can increase.
Efforts are made, among others, by presenting notebooks in various classes. Special in the premium class itself, as has been alluded to earlier, there are six new notebooks presented. The range of prices ranging from Rp 9.8 million to Rp 50 million.
They also conduct a variety of marketing campaigns. One of them took a number of public figures, such as Raditya Dika, Chandra Liaw, Sandra Dewi and others.
Original Source:
Inet Detik (Indonesia)