Xiaomi Mi 7 Coming on May 23 !?
Image Source: Tekno Tempo co.
Xiaomi Mi 6 Success as the flagship of Xiaomi last year with excellent specifications but can be purchased for a relatively cheap price. This year, the MiFans (Mention for Smartphone fans / products from Xiaomi) await the presence of successors from Mi 6-- the Mi 7--, but after some obstacles that occur, it seems this news will be a breath of fresh air for them.
Ivan, GSMARENA - Xiaomi could unveil the Mi 7 on May 23 if a new official-looking poster is to be believed. The poster looks real enough and features a burning 7 and the date May 23 along with the Mi logo, which usually adorns Xiaomi teaser posters. But the image isn't of very high quality and it hasn't been posted on Xiaomi's official Weibo account but is instead found elsewhere on Weibo.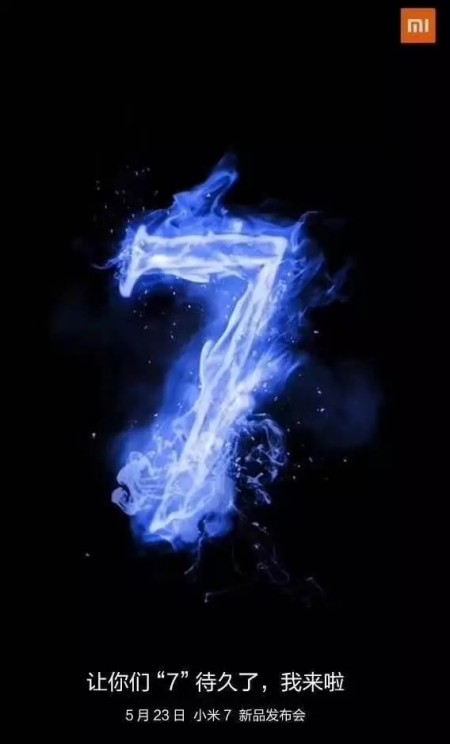 Image Source: GSMARENA
Of course, that doesn't discount the information and the teaser as false. We're just advising caution at this point. The Xiaomi Mi 6 was announced a year ago in April, which puts the timing right on the money.
What we can gather from leaks and rumors about the Xiaomi Mi 7 is that it will offer a Snapdragon 845 and 8GB of RAM, an in-display fingerprint scanner and could quite possibly harbor a notch on top of its display.
Xiaomi is rumored to launch Mi 7 and Mi 7 Plus together. The Mi 7 is expected to sport a notched OLED display and it is expected to carry support for 3D facial recognition. Rumors surrounding the Mi 7 Plus claim that it could be equipped with under-display fingerprint scanner. If the Xiaomi Mi 7 is really launching on May 23, the Chinese manufacturer will surely start teasing its features soon.