Xiaomi began to triumph on European
Image Source: Kimovil
Starting from just a small start-up, the Chinese company Xiaomi has now started spreading their names around the world, especially in Asia with their digital products (especially Smartphones). Xiaomi is well received because it provides a pretty good quality at an affordable price. Now, Xiaomi is widening its "wings" to the European.
Yudha P., Tekno Kompas - Canalys, a UK-based market research institute, released its first-quarter 2018 analysis report from the smartphone market in Europe this week. The result is quite surprising. China's mobile phone vendor, Xiaomi managed to grow significantly with a percentage of more than 999 percent. Even because the analyst can't put it in the graph, they should place the symbol "> +999 percent" instead.
Currently, Xiaomi is already ranked 4th in the share of smartphones in Europe. In fact, Xiaomi spelled out a new player in mainland Europe. From one to three held by Samsung, Apple and Huawei with a distance far enough from Xiaomi.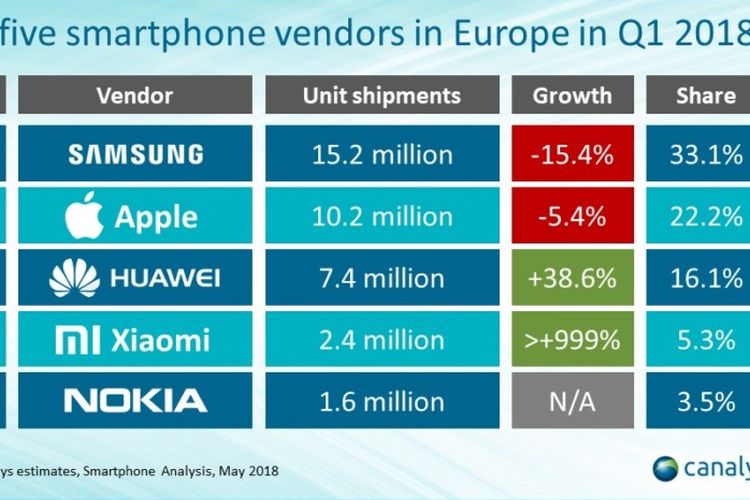 Image Source: Tekno Kompas
Currently from the research results noted that Samsung dominated the market with a market share of 33.1 percent and then followed by Apple with a share of 22.2 percent. In third place Huawei gained 16.1 percent share then in fourth position with 5.4 percent Xiaomi and Nokia in fifth position with a percentage of 3.5 percent.
Xiaomi is gaining considerable popularity. In some countries, Xiaomi can even seize the highest throne from vendors who have been present longer. For example in India. Xiaomi can conquer Samsung and move it in second position.
Image Source: NDTV Gadgets
That's why analysts predict that does not rule out this vendor will enter the big three shift Samsung, Apple, or compatriot Huawei in the European market. Not impossible indeed, because if it refers to data released Canalys seen that the value of Samsung and Apple's growth slumped in the first quarter of 2018. While Huawei and Xiaomi increased sharply.
Nevertheless, it seems still too premature to predict what kind of future Xiaomi in Europe. Because Europe is a market where Xiaomi still have to move quickly to penetrate. Some time ago, Xiaomi also expanded its marketing area to France and Italy. Xiaomi will begin marketing the phone in France on May 22 and in Italy on May 24, 2018.