Machine Learning Predicts Who is the 2018 World Cup Winner!
Image Source: TheVerge
Currently, the world is enlivened with the biggest soccer event every four years, the world cup. Located in Russia, many countries compete for the World Cup championships set every 4 years. Not to forget also many kinds of predictions have sprung up to enliven this event, guess who will be the champion later.
Raden F. S., Inet Detik - There is an interesting prediction of this 2018 World Cup championship this time. The predictions that soccer and sport scientists usually make are usually unique animals, now performed by machine learning machines, and they gush Germany as the champions of the biggest football event of the year.
Keep in mind, sports scientists and soccer watchers initially predict the Brazil team as world champion. Latin American country is predicted to win the World Cup with a possibility of 16.6 percent. The second position is the German team with a possible of 12.8 percent, then Spain with a possible 12.5 percent.
In contrast to human predictions, after making 100,000 simulations of World Cup matches, the system concludes that Germany will be the winner of the 2018 World Cup this time. However, there are interesting factors that will greatly affect the victory of Germany.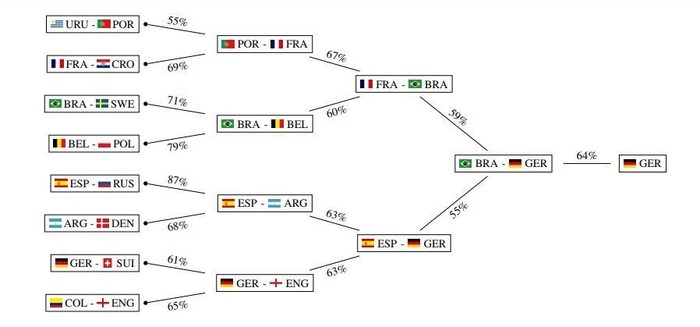 Image Source: Dok. University of Dortmund, via Inet Detik
The German national team had to qualify for the quarter-finals to increase the chances of winning. Otherwise, Spain has the greatest chance of winning. Whatever it is, this prediction can not be used as a benchmark. But it will be very interesting if the computer prediction can be relied upon for various race events in the future.
Prediction through machine learning is actually done by a group of scientists led by Andreas Groll from the University of Dortmund, Germany. Groll and his colleagues created an artificial intelligence system using machine learning methods to predict who will win the 2018 World Cup.
Quoted from the MIT Technology Review on Sunday, June 17, 2018, Groll uses a special technique in data-mining called random-forest. The technique allows the computer to analyze large amounts of data with a lower error rate than other data-mining techniques.
Groll also uses a lot of data to determine the 2018 World Cup winner. The data consists of player data, team strength data based on FIFA rankings, even up to the population data of each country that competes in the World Cup and its GDP.