A preparation - Nokia N Series will Rise Once Again
Image Source: The Financial Express
Nokia had become the king of mobile phones in the past, with one of his series is quite famous and sell well the Nokia N-series. But since the onslaught of android and apple, Nokia seemed to be willing to withdraw from the competition of mobile phones today. However, Nokia again tried to rise - with the release of some of their android-based smartphone - and there is a new news that may be enough to make this brand lover curious.
Adi F. R., Inet Detik - HMD Global will again generate a Nokia phone that famous in his time. After Nokia 'Banana', the Chinese vendor will release N-Series phones in the near future. It was revealed in a posting on Weibo. The official Nokia Mobile Phone account provides the teaser for the latest N-Series mobile phone presence.
In the post they wrote that on April 27, 2005 Nokia N Series was announced and this phone emits an aura. After 13 years there will be a new surprise. A box will be on display at Sanlitun's shopping center area, Chaoyang District, Beijing, China on April 27 to May 2, 2018.
Inside Nokia Mobile Phone account also included Nokia N9 photos released 2011 ago. From there appears the allegedly phones that will be released is 2018's N9 edition. The launch procession is likely to take place May 2 next.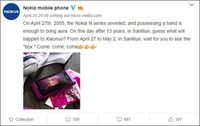 Image Source: WEIBO from Inet Detik
FYI, HMD Global first re-released the classic Nokia phones in 2017. At that time they launched the legendary Nokia 3310 in the arena of Mobile World Congress (MWC). This phone gets a big attention because naturally Nokia 3310 is still remembered it's toughness until now.
The success makes HMD Global re-release Nokia's old school series. At MWC 2018 they bring the Nokia 8110.
Image Source: Pcket-lint
Not stop at that point, HMD Global also reveal that will release the Nokia X Series. which may be named in Nokia X6. Perhaps bringing classic phones into a part of HMD strategy to bring Nokia back victorious in the world of mobile phone market. But, succeed or not let's just look ahead.