Samsung still won the ASEAN mobile phone market
Image Source: SAMSUNG
Surely some of us know this smartphone brand from South Korea, Samsung. In various countries Samsung is dominating the sale of Android-based smartphones both in line entry level to the flagship. The quality of guaranteed goods and proven services are partly why Samsung deserves this award.
Agus Tri Haryanto, detikinet, Jakarta-Indonesia - International Data Corporation (IDC) ASEAN announced a report on smartphone shipments in developing countries by 2017. During that year, nearly 100 million smartphones were shipped to the market, down from less than 1% year on year (YoY). The mention of this developing country is shown to Southeast Asia, which includes Indonesia, Malaysia, Myanmar, the Philippines, Thailand and Vietnam.
IDC says Myanmar and the Philippines are the countries that recorded declines, where shipments from some vendors were less significant - lowering total shipments in Southeast Asia.
Meanwhile, some local players and small players lose competitively as the top four players continue to strengthen their position, it is marked by a mix of low-end handsets (price range USD 100 to USD 200) and midrange (about USD 200 to USD 400).
"Despite the growing popularity of the top four players who are able to withstand shipping volumes, the majority of users are in no hurry to replace the new handsets if they have used midrange handsets of good quality and at a high enough price for a region that adequately considers this budget." resulting in longer lifecycle and replacement rates," said Jensen Ooi, senior market analyst, Client Devices, IDC ASEAN in a statement received by detikINET at Monday March 5th, 2018.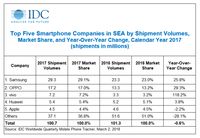 Source: Detikinet
In shipments of 2017 in ASEAN, Samsung became a winner by sending 29.3 million. This figure is higher than the previous year, the vendor from the State of Gingseng is sending 23.3 million units of smartphones in 2016. Then, the next sequence is sequenced by Vivo with 7.2 million units, Huawei 5.4 million units, Apple 4.5 million units, and some vendors combined to reach 37.1 million smartphone units.